OSHA Forklift Operator Safety Training
Whether you are an experienced forklift operator or a new forklift operator, Safety Consultants USA's course is applicable to all classes of forklifts or powered industrial trucks (PITs).  New operators will acquire a wealth of information and experienced operators will reinforce their knowledge of safe operating procedures.  After taking the Safety Consultants USA forklift training course, operators will be able to put their new knowledge and their current experience together to improve their personal safety and that of their co-workers.  The objective of this course is to increase knowledge of safety forklift operation and reduce the risk of accident or injuries int he workplace.  This course covers all required OSHA regulations for the safe operation of a forklift.
Safety Consultants USA customizes each forklift training class to ensure it meets your company's needs.  Our trainers work hand-in-hand with clients to create a course that addresses each class of forklift or PIT used in your operation, as well as the experience level of all operators. 
The course will consist of classroom training, a written exam, and a practical exam.
During the classroom portion the students will cover:
– Operating instructions, warnings, and precautions for the class of forklift the operator will be authorized to operate
– Testing lift controls
– Differences between the forklift and the automobile
– Forklift controls and instrumentation: where they are located, what they do, and how they work
– Engine or motor operation
– Steering and maneuvering
– Visibility (including restrictions due to loading)
– Fork and attachment adaptation, operation, and use limitations
– Forklift capacity
– Forklift stability
– Any forklift inspection and maintenance that the operator will be required to perform
– Operating limitations
– Surface conditions where the forklift will be operated
– Composition of loads to be carried and load stability
– Load manipulation, picking, and stacking
– Pedestrian traffic in areas where the forklift will be operated
– Narrow aisles and other restricted places where the forklift will be operated
– Ramps and other sloped surfaces that could affect the conditions
– Practical exam
– Written test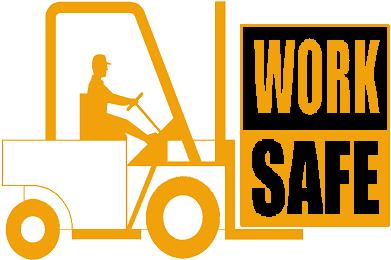 Frequently asked questions
Do my forklift operators need to be certified?
Yes.  OSHA requires that employers certify all forklift or powered industrial truck operators.  (OSHA 1910.178(I)(6)  
How long is the operator's certification good for?
A forklift or powered industrial truck operator's certificate is good for 3 years.  After 3 years all operators must pass a performance evaluation or practical exam.